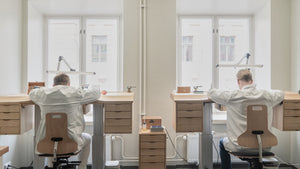 How to service your watch?
"Mechanical functionality is only guaranteed when a pre-owned watch is properly serviced and checked"
Watches need service regularly (service is equal to repair). When a watch is serviced at our atelier, we disassemble everything, clean, repair, oil and adjust all the necessary settings in the whole watch. We use original parts in each service, and always work respecting watch's originality and listen to our customers voices if you have special wishes considering your watch.
Drop your watch to our boutique in Aleksanterinkatu 16-18, Helsinki. We'll inspect it and give you a detailed description of the work and a cost estimate of the service. After accepting our service estimate, we'll order spare parts and begin servicing your watch. Please contact us via e-mail if you wish to send your watch to us for a service, and we will guide you how to do it.

You will receive three before & after pictures when you service your watch at Polus atelier. We like our customers to be able to see inside the watch case too and take a look to the work we have done.